It's been a long first few months of the college basketball season for the Kentucky Wildcats. The team that started ranked No. 1 overall has had three loses that quickly knocked them down to a team in the double-digits in the national rankings. But as the Kats got ready to face in-state rival, and ranked No. 6 Louisville, they came out swinging the entire game.
Before the 73-66 loses to Kentucky, Louisville had only lost to North Carolina. However, some will argue that the defending National Champions really haven't played anyone of merit aside from North Carolina and Kentucky, both of whom they lost to. Nonetheless, the in-state rivalry between Kentucky and Louisville is one that never disappoints, and this was especially on display on Saturday night.
For the Wildcats, James Young was the leading scorer with 18-points. Averaging 13 points per game on the season, his additional output was exactly what Kentucky needed. Julius Randal, the 6'9" freshman from Texas, also put in 17, but he was found sitting on the bench in the second half being treated for cramps. In his absence, Andrew and Aaron Harrison, another set of stellar freshman, would combine for 11 crucial points down the stretch in the second half. At the end of the game, the twin brothers would combine for 28 points to help with the victory.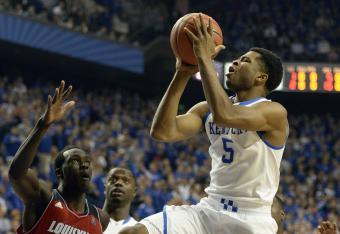 For Louisville, senior Russ Smith led the way with 19 points and 4 assists in 30 minutes of action. He was followed by Chris Jones, the junior who had 18 points on 7-13 shooting.
Leading up to the game, John Calipari and Rick Pitino both treaded the line on how their teams should approach this game. The importance and emphasis of a huge game like this can't go understated. However, a loss also shouldn't be looked at as detrimental towards the remainder of the season for either of these squads.
Now, even with three losses on the season, Kentucky has a big win that proves they belong in the conversation of best teams in the nation. And what could be more telling is that despite being 11-2, Louisville could have some kinks to work out when they play against teams that offer the talent like that of Kentucky. After all, Louisville is now 0-2 against teams that are ranked in the top 25.
From here on out, both teams will need to continue to get better. We still have eight teams that are undefeated, which could make for some congestion at the top of the standings in the coming months. But in the mean time, the Wildcats reign supreme in the annual showdown for the battle of the Bluegrass State.
Louisville Cardinals
STARTERS
MIN
FGM-A
3PM-A
FTM-A
OREB
DREB
REB
AST
STL
BLK
TO
PF
PTS
Montrezl Harrell, F
21
2-2
0-0
2-2
2
2
4
0
1
1
0
3
6
Mangok Mathiang, F
22
2-2
0-0
0-0
1
2
3
0
0
4
1
1
4
Russ Smith, G
30
7-20
0-5
5-10
1
1
2
4
1
0
4
4
19
Wayne Blackshear, G
12
1-4
0-2
3-4
0
3
3
0
1
0
0
5
5
Chris Jones, G
31
7-13
3-9
1-1
0
3
3
2
1
0
2
3
18
BENCH
MIN
FGM-A
3PM-A
FTM-A
OREB
DREB
REB
AST
STL
BLK
TO
PF
PTS
Akoy Agau, F
2
0-0
0-0
0-0
0
2
2
0
0
0
0
2
0
Chane Behanan, F
20
0-3
0-0
0-0
2
5
7
0
0
0
3
2
0
Stephan Van Treese, F
18
0-0
0-0
1-2
4
1
5
0
0
0
1
1
1
Luke Hancock, F
28
3-11
2-8
0-1
0
3
3
2
1
0
0
2
8
Tim Henderson, G
3
0-0
0-0
0-0
0
0
0
0
0
0
0
0
0
Terry Rozier, G
13
1-3
1-2
2-2
0
1
1
0
1
0
1
2
5
TOTALS
FGM-A
3PM-A
FTM-A
OREB
DREB
REB
AST
STL
BLK
TO
PF
PTS
23-58
6-26
14-22
12
24
36
8
6
5
13
25
66
39.7%
23.1%
63.6%
Kentucky Wildcats
STARTERS
MIN
FGM-A
3PM-A
FTM-A
OREB
DREB
REB
AST
STL
BLK
TO
PF
PTS
Willie Cauley-Stein, F
35
1-3
0-0
0-0
3
7
10
0
1
3
0
4
2
Julius Randle, F
21
7-8
0-1
3-6
1
2
3
0
0
0
2
1
17
James Young, G
36
5-17
3-8
5-9
4
6
10
4
1
1
2
2
18
Aaron Harrison, G
30
5-12
0-3
0-0
0
4
4
1
0
0
4
2
10
Andrew Harrison, G
34
6-16
0-1
6-12
3
1
4
2
1
0
3
3
18
BENCH
MIN
FGM-A
3PM-A
FTM-A
OREB
DREB
REB
AST
STL
BLK
TO
PF
PTS
Alex Poythress, F
21
3-4
0-0
1-2
1
4
5
0
0
0
0
3
7
Dakari Johnson, C
8
0-1
0-0
0-0
1
0
1
1
0
0
0
0
0
Dominique Hawkins, G
15
0-1
0-1
1-1
2
1
3
0
0
0
0
4
1
TOTALS
FGM-A
3PM-A
FTM-A
OREB
DREB
REB
AST
STL
BLK
TO
PF
PTS
27-62
3-14
16-30
17
27
44
8
3
4
11
19
73
43.5%
21.4%
53.3%
 Technical Fouls: PLAYERS: None – TEAMS: None
 Officials: Tony Greene, Doug Sirmons, Mark Whitehead
 Attendance: 24,396