Here are some of the key injuries from this past weekend and how they are likely to effect the final weeks of the season and the betting lines.
Part of the Cardinals success this year, they are third place but that's in the toughest division in football, has been their solid defense. Part of that defensive core has been rookie safety Tyrann Mathieu. Unfortunately for the Cardinals, they lost Mathieu to an ACL injury this past weekend and had to have season ending surgery. This is likely to put a hole in a Cardinals secondary that has games left against Seattle and San Francisco. The road was going to be tough enough for the Cardinals, but without Mathieu it will be even harder.
Another one of the most talked about injuries of this past weekend was suffered by Rob Gronkowski. After only having Gronk back for a handful of games because of back surgery this past season, he was injured this past weekend and tore his ACL against the Browns. The Patriots are still a favored team in the AFC, but Gronk was one of Tom Brady's favorite targets. Without him, the options will certainly be limited. Their remaining games come against divisional Miami and Buffalo, and they also have Baltimore squeezed in there as well. The Patriots will have to look healthy while they try and also maintain momentum heading into the playoffs.
Adrian Peterson had a rough game statistically on Sunday. It didn't get much better after getting his foot rolled over by Arthur Brown of the Ravens. Luckily, the MRI and X-ray came back negative it doesn't look to be a serious injury. However, with the Vikings season already over, you might be looking at AP to sit on the shelf for the rest of the season anyways.
The Packers squeezed out a 22-21 win over the putrid Falcons this weekend, so they technically remain in the playoff hunt. And while that's good news for cheesehead fans, it puts quite a bit of pressure on Aaron Rodgers and Eddie Lacy. Rodgers still hasn't been cleared to play and will look for further answers towards the end of the week. As for Lacy, he has had a great season in the Packers backfield, but he was injured late in the first half in Sunday's game. Lacy doesn't look to be a serious threat to miss this weekends game, but his productivity could go down if that injury lingers. And if the Packers don't have either, or even if neither Rodgers nor Lacy are completely healthy, it could be a tough matchup against the Cowboys.
Denver Broncos wide receiver Wes Welker, who has suffered two concussions in the past four weeks, has been ruled out for Thursday night's game against the San Diego Chargers.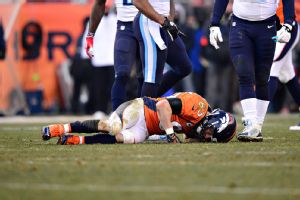 Wes Welker, the Broncos' second-leading receiver, has suffered two concussions in the past four weeks.
Broncos coach John Fox acknowledged Monday that Welker's health was "what we're thinking about," saying that the five-time Pro Bowler would undergo the NFL's concussion protocol.
Welker sustained his most recent concussion in last Sunday's victory over the Tennessee Titans.
According to the league's protocol, any player who suffers a concussion is not permitted to participate in a full practice until the following Friday at the earliest.
Welker, the Broncos' second-leading receiver this season, also suffered a concussion against the Kansas City Chiefs on Nov. 17. The 10-year veteran returned the following week to play against his former team, the New England Patriots.
We have a lot of key games this weekend, so expect players that may not be 100% to suit up anyways and try and push their teams into the playoffs.